Branding Strategy – Marketing Consultation – Creative Solutions
First, think like your customer. Next, develop ideas that build a strong brand and inspire smart marketing efforts. Then create effective content and inspired creative solutions that actually generate leads to grow your business. That's what it's like to work with Idea Hut. We're experienced specialists that you'll rely on for ideas and actions that get results.
Your business deserves great ideas. That's where we start. Then we bring those ideas to life through marketing solutions that drive growth.
Marketing Consultation
Strategic Planning
Communications Planning
Media Management
List Development
Relationship Marketing
Branding Strategy
Logo Creation
Identity Packages
Positioning & Brand Standards
Content Development
Creative Solutions
Web/Interactive
Advertising Campaigns
TV/Radio
Video Creation
Print
Outdoor
Direct Mail Packages
Collateral Development
Event Marketing
We believe that the biggest part of our job is taking the time to think about your business the way customers would, then develop a strategy designed to achieve results. We strive to uncover those qualities that make each business unique—from the customer's perspective. That way we're able to help make promises your brand can keep, strengthen customer connections, and grow business.
Remember, marketing is more than pretty pictures, running an ad, or having a website. It's about determining objectives and building communications plans that are smart. It's about developing relevant content and integrated marketing messages, rooted in stellar creative design. In full, it's about building a brand that has meaning for your customers.
In the digital age, it's required to have a strong online presence and utilize industry best practices to engage with your audience, build relationships and generate leads, all while maintaining your brand.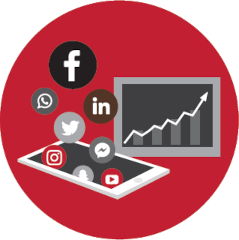 Website Design
Create a professional, functional, and impressive image online that engages all of your audiences and sets you apart.
Social Media
Build an online community and naturally generate followers through strategic social media campaigns.
PPC
Experience continued growth with targeted pay-per-click advertisements and advanced digital strategies.
Content Marketing
Promote your business further and connect with your audience through blogs, videos, infographics, and more.
SEO
Generate quality organic traffic and increase your online exposure with search engine optimization.
Email Marketing
Solidify relationships with your customers through highly targeted email campaigns, each with brilliant designs and engaging copy.
Here are some examples of how we help you turn content, messaging, and design into ROI.
IT ALL STARTS WITH A GREAT IDEA!